My shop is on vacation.
I invite you to take a few minutes to explore the blog.
Try a free pattern!
How To Keep A Butterfly For A Lifetime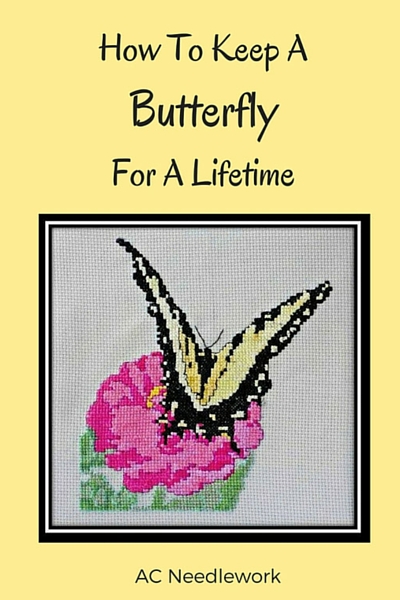 Did you know that the life of an adult butterfly can be as short
as one week or as long as nine months? Most of them live about one month. So, you may be wondering, how can I keep a butterfly for a lifetime?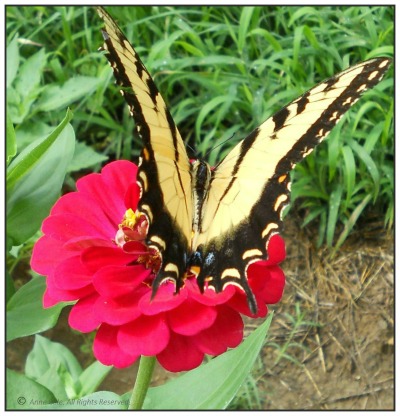 One summer I captured this beauty in a photo when I saw it feeding in my mother's zinnia patch. Most likely it was an Eastern Tiger Swallowtail (Papilio glaucus). They are very common in the piedmont of North Carolina.
The tiger swallowtail has two tails and is yellow with black"stripes". Male swallowtails are generally yellow and black but females can either have the yellow and black markings or some may be blue and black. They fly quickly and can even glide through the air. You will often find them in gardens because they love pink and red flowers. (This one sure picked its favorite color!)

Capture the Moment for a Lifetime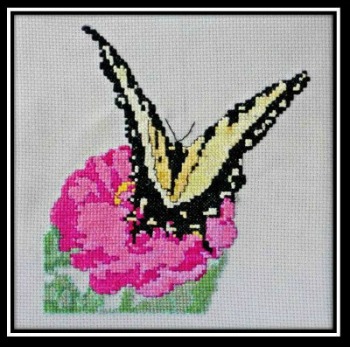 I was so taken by the moment with the butterfly; I just had to keep the memory forever. I could have just kept the photo but we stitchers know that creating a moment with needle and thread can last as heirlooms for many years. So with the magic of digital software I created the pattern featured today – Butterfly and Zinnia Counted Cross Stitch Design.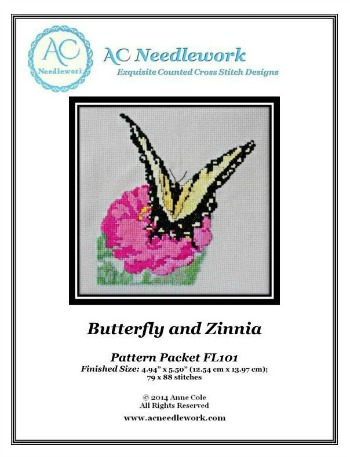 Design Details
Here is a quick overview of the pattern.
Approximate size completed – 4.94 inches x 5.30 inches; 12.54cm x 13.94cm

17 colors, featuring shades of pink, yellow, green and black.

The design model was stitched on 16 count Aida – "French Lace" by Wichelt Imports, Inc.

Stitched with DMC cotton floss and Kreinik blending filament
Pattern includes:
a cover sheet featuring the finished design

a black and white pattern and a color cross stitch chart (both have color and stitch symbols)

floss list which can be used as a shopping list

Pattern will be delivered as a PDF instant download
The next time you experience a special moment in time, I
hope you will think about how you can keep it for a lifetime.
Consider that even in the digital age we live in, the ancient
art of embroidery can still capture your treasured moments even past your life time.
Do you have any special moments captured in needlework? If so, share them with us in the comment section here or on the AC Needlework Facebook page. We would love to see them and hear the story behind the design!
Sources:
http://www.thebutterflysite.com/how-long-butterflies-live.shtml
http://www.gardenswithwings.com/butterfly/
http://www.dpughphoto.com/papilioniidae.htm
http://www.quotegarden.com/butterflies.html
http://www.goodreads.com/quotes/tag/butterflies?page=2
© 2016 Anne Cole. All Rights Reserved.
Join our e-mail list and receive our free PDF pattern download. You can subscribe here. AC Needlework will not share your email address.
Follow AC Needlework on:
Facebook (Won't you like our page?)
Also visit our
Share: