My shop is on vacation.
I invite you to take a few minutes to explore the blog.
Try a free pattern!
2 New Holiday Designs You Must See!
Have you started stitching gifts for the holidays yet?
For stitchers, holiday shopping begins before everyone else
because our gifts take so much more work than the typical
gifts do. That is what makes them so special.
When recipients open our stitched gifts, they see our love in every stitch we crossed. As you are getting your holiday stitching rolling, I am so happy to introduce two new holiday designs from AC Needlework. Keep reading to get the details.
Christmas Tree Quilt Block
Counted Cross Stitch Pattern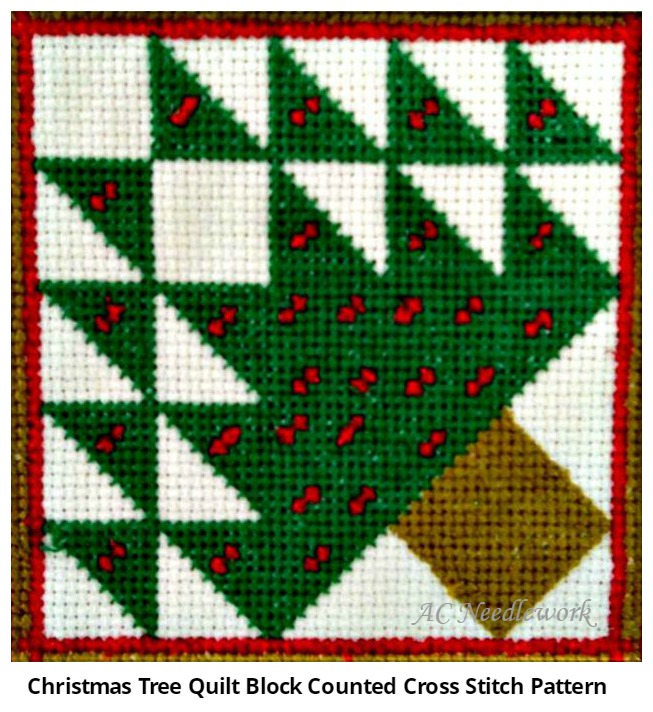 Imagine a Christmas tree turned on its side and you will see
how triangles of red, green, and white form this Christmas
was inspired by the traditional Tree of Life quilt block pattern.
The quilt block consists of two triangles sewn together to
form a basic square. I was attracted to the design because
of the different shapes your eyes can see as you gaze at the
design. It was holiday time when I discovered this quilt block
and I thought - why not a Christmas tree?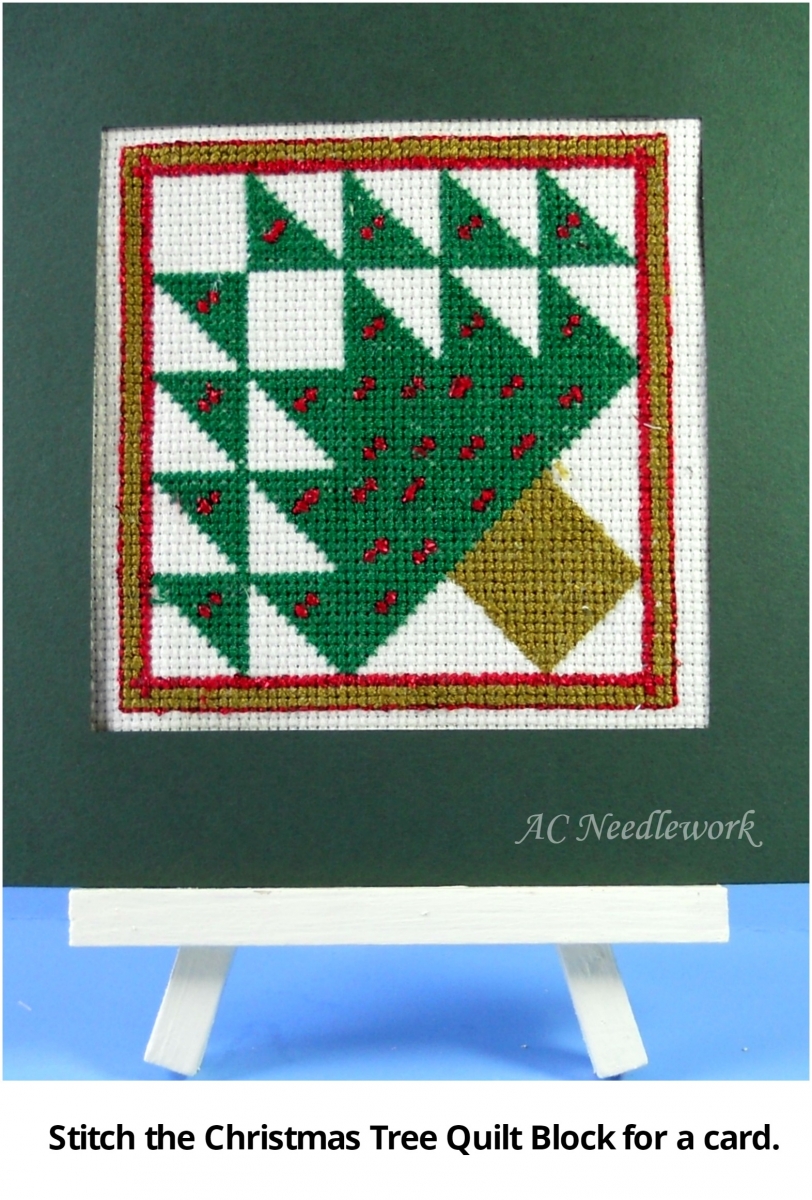 Some Design Details
Stitch count - 56w x 56h
Finished Size - 3.50" x 3.50"; 8.89cm x 8.89cm
(stitched on 16 count Aida)
Colors - 5
Threads - DMC Floss/Kreinik blending filament
Difficulty - easy
About blending filament -The Kreinik blending filament is optional. I love the addition of the blending filament because it gives a bit of sparkle to the red "lights" on the tree. TIP: If you have never used blending filament, keep the filament short (4 or 5 inches in length) and use one strand of filament with one strand of cotton floss. This will help prevent the filament from breaking or raveling as you stitch.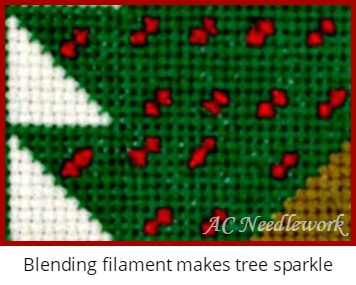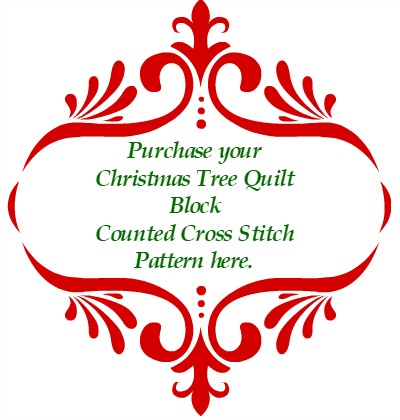 Evergreen Mandala Counted Cross Stitch Pattern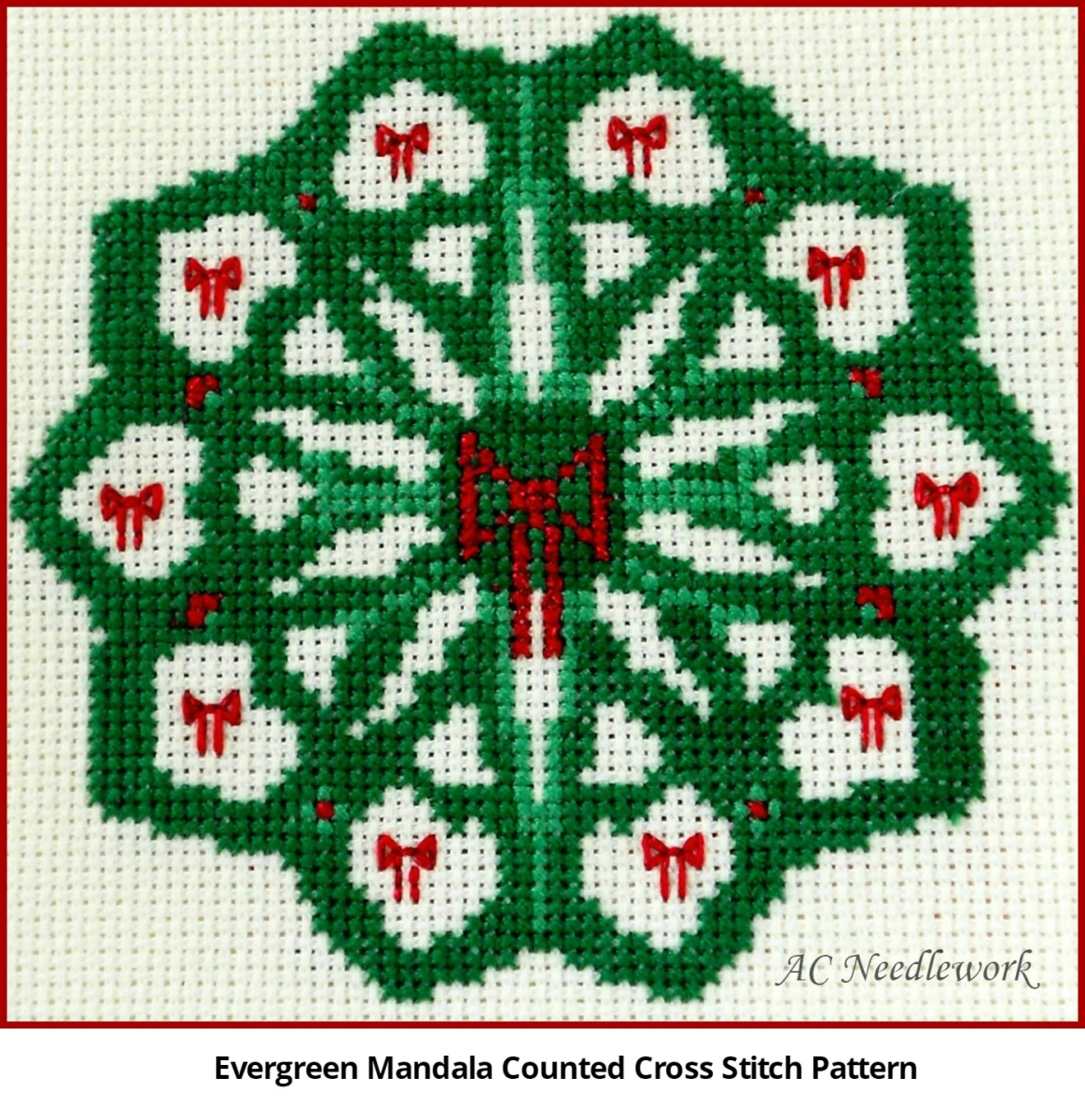 Adorned with shiny red bows in a ring of holiday green, the
Evergreen Mandala Counted Cross Stitch Pattern is a perfect
choice for a greeting card for the holiday. It would also be
lovely mounted in a small frame and displayed on a mantel or
in another holiday centerpiece.
A Bit About Mandalas
A mandala is a circle. Any round object can be a mandala.
Many cultures (ancient and current) give meanings to the
mandala. Various religions have used the mandala as
sacred art, from rose windows in cathedrals, Native American
dream catchers, and Buddhist sand mandalas. But
mandalas are all around us - snowflakes, flowers, pin wheels,
cinnamon rolls, the sun, the moon, and even the very planet
we live on. Today, drawing and coloring mandalas has
become a popular means to achieve relaxation. I find that
stitching mandalas help me relax.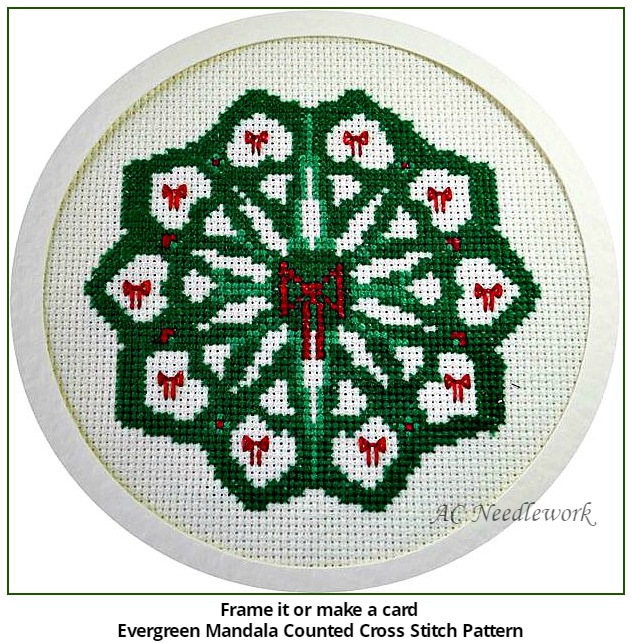 Some Design Details
Finished Size

- 4.19" x 4"; 10.64cm x 10.16cm
(stitched on 16 count Aida)
Threads

- DMC embroidery floss, Kreinik blending filament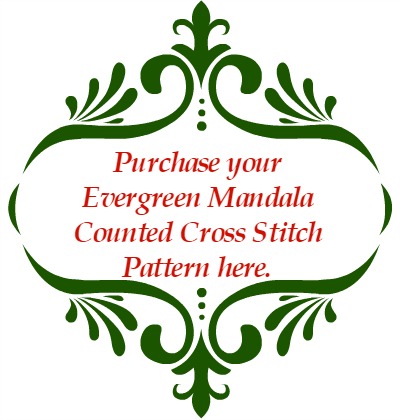 So, stitchers, whether you are a beginner or experienced at
cross stitching, bring delight to someone this holiday by
stitching these two new designs for holiday gifts.
Want to know more?
Tree of Life Quilt Block
What are you stitching for holiday? Share your projects with us on the AC Needlework Facebook page. If you choose a design featured in this blog post, share your photos of them on our Facebook page also.
© 2016 Anne Cole. All rights reserved.
Want a free holiday counted cross stitch design? Join our email list to get our email updates, announcements, or information about new designs. We promise we will not share your e-mail information.
Follow AC Needlework on:
Facebook (Won't you like our page?)
Share with others: