My shop is on vacation.
I invite you to take a few minutes to explore the blog.
Try a free pattern!
It's Snowing At AC Needlework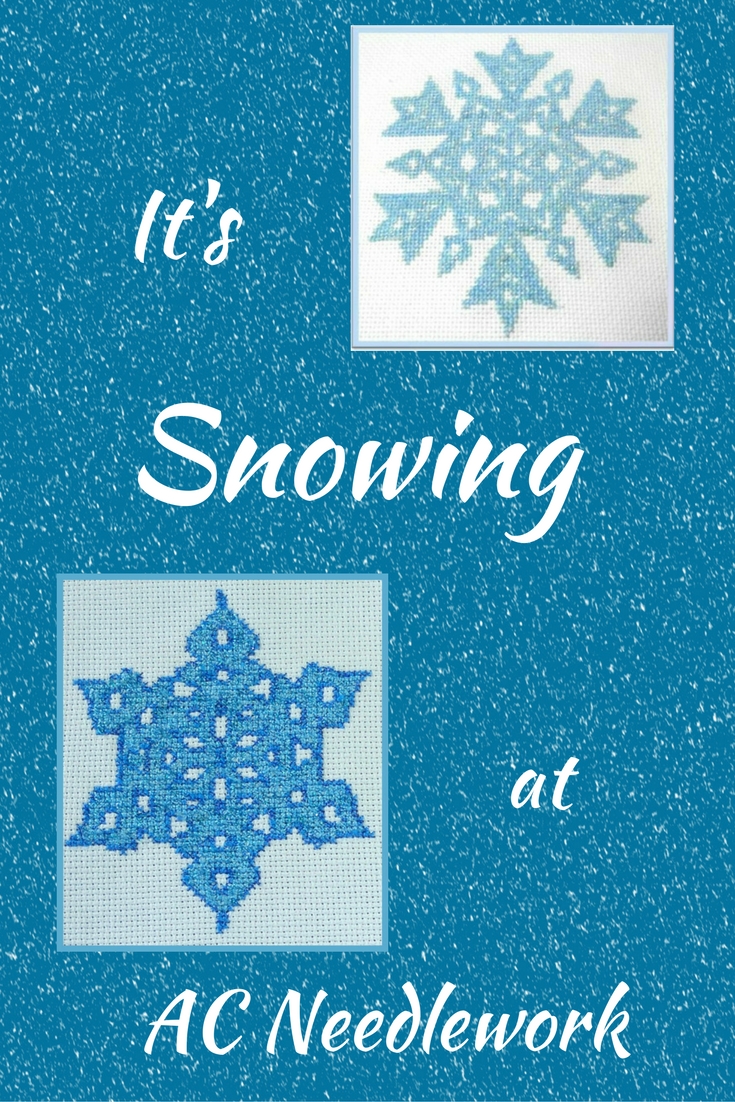 Do you find the summer heat getting to you? I have a solution! Why not change your mind set about the heat wave by stitching a snowflake? Read more to see why it's snowing at AC Needlework.
Of course, I know stitching snowflakes will not make the summer heat go away. But I do want to tell you about two snowflake patterns that you can find in the AC Needlework shop.
Cool Blues and Icy Blending Filament
Both snowflake patterns – Crystal Blue Snowflake and Electric Blue Snowflake – use cool shades of blue DMC cotton embroidery floss and icy shades of Kreinik blending filament. (You can find embroidery floss in most craft stores. I find it more difficult to find blending filament in craft stores so I order directly from Kreinik.)
These patterns are easy. They use whole stitches and there is no backstitching. The blending filament may be a bit of a challenge if you have never stitched with it. Just be sure to keep the length of the filament short and use one strand of cotton floss and one strand of blending filament.
TIP: If you have never used blending filament, keep the filament short (4 or 5 inches in length) and use one strand of filament with one strand of cotton floss. This will help prevent the filament from breaking or raveling as you stitch.
Crystal Blue Snowflake Counted Cross Stitch Design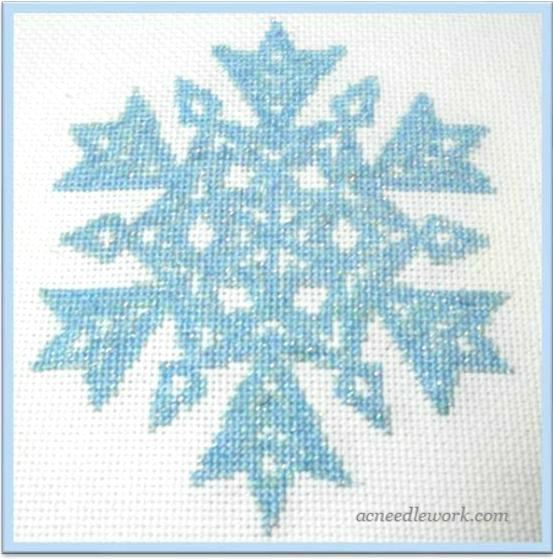 You will see the sparkle come alive as you stitch the pattern. Hopefully you can see the glint of the blending filament in these close ups.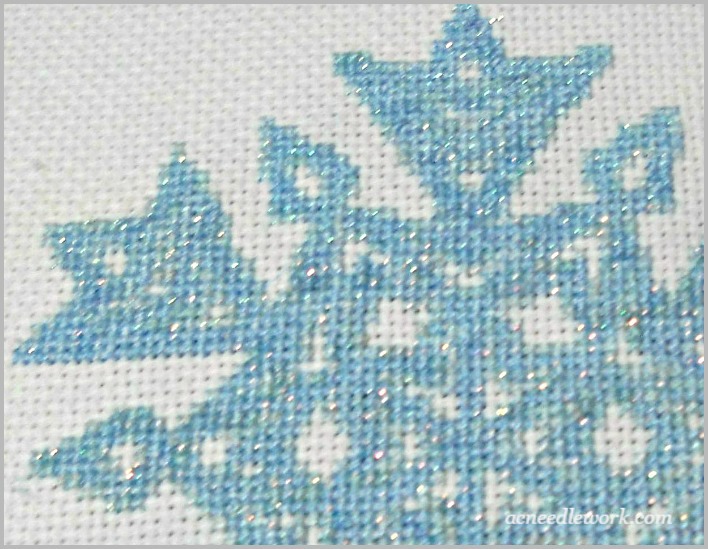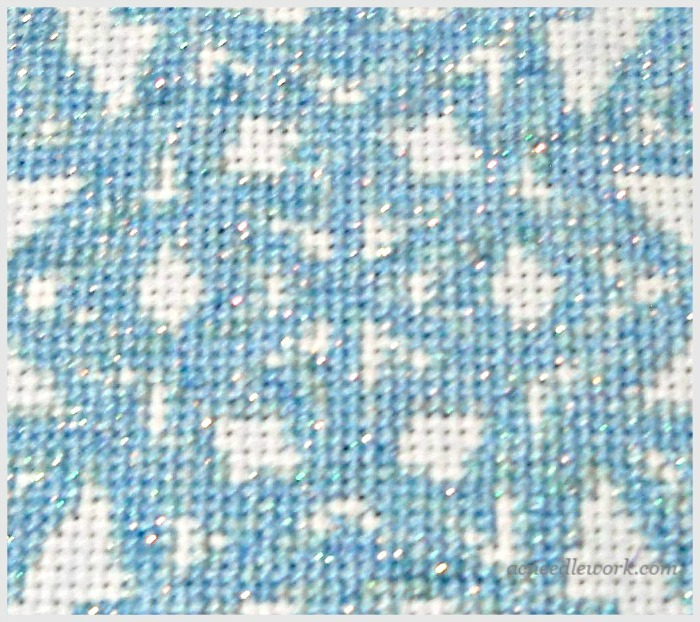 Design Details
Stitch Count - 70w x 82h
Finished Size - 4.38" x 5.13"; 11.12cm x 13.03cm; 16 count Aida fabric
Colors - 5
Fibers - DMC floss, Kreinik blending filament used
Electric Blue Snowflake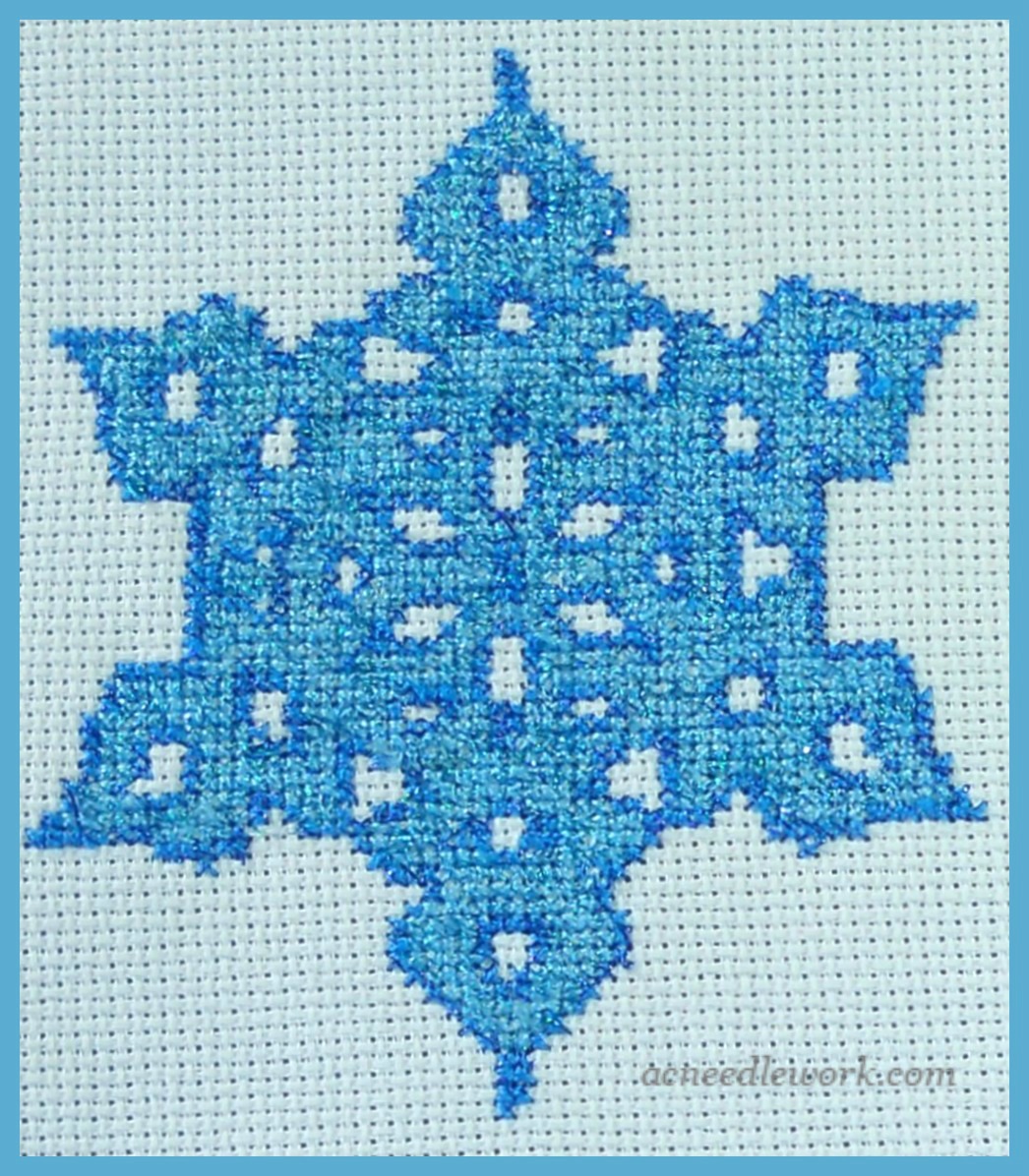 Two shades of DMC's Electric Blue floss make this design pop. It will make a great greeting card. It will also look great in a frame. You could brighten up a small space on a wall or display it on a mantel or table in your favorite room.
Design Details
Stitch Count - 56w x 66h
Finished Size - 3.50" x 4.13"; 8.89cm x 10.49cm;16 count Aida fabric
Colors - 2
Fibers - DMC floss used
Pattern Details
Pattern packets include:
One cover sheet with a color photograph of the finished design
One 2 page 8.5x11 color cross stitch chart
One 2 page 8.5x11 black and white cross stitch chart

Both charts include color and stitch symbols

One pattern information sheet which includes a list of symbols, identification numbers and names of DMC floss used. Floss list is designed as an easy to use shopping list.
Each pattern can be instantly downloaded after your order is complete.
So if you love snow and snowflakes these designs are for you. If you can't get relief from the hot summer at least you can dream about cold weather as you stitch one of these designs!
Do you like snowflake designs? If so, share why in our comments section below or in the comment section on Facebook! Better yet, if you stitch one of the snowflakes featured in this post, share photos of your progress or finished showflakes on the AC Needlework Facebook page.
© 2016 Anne Cole. All Rights Reserved.
Subscribe to our email list. Get tips, announcements, updates and a free design.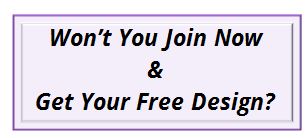 Follow AC Needlework on:
Facebook (Won't you like our page?)
Also visit our
Share with Others: