My shop is on vacation.
I invite you to take a few minutes to explore the blog.
Try a free pattern!
Celebrate Fall by Cross Stitching This Fall Harvest Quilt Block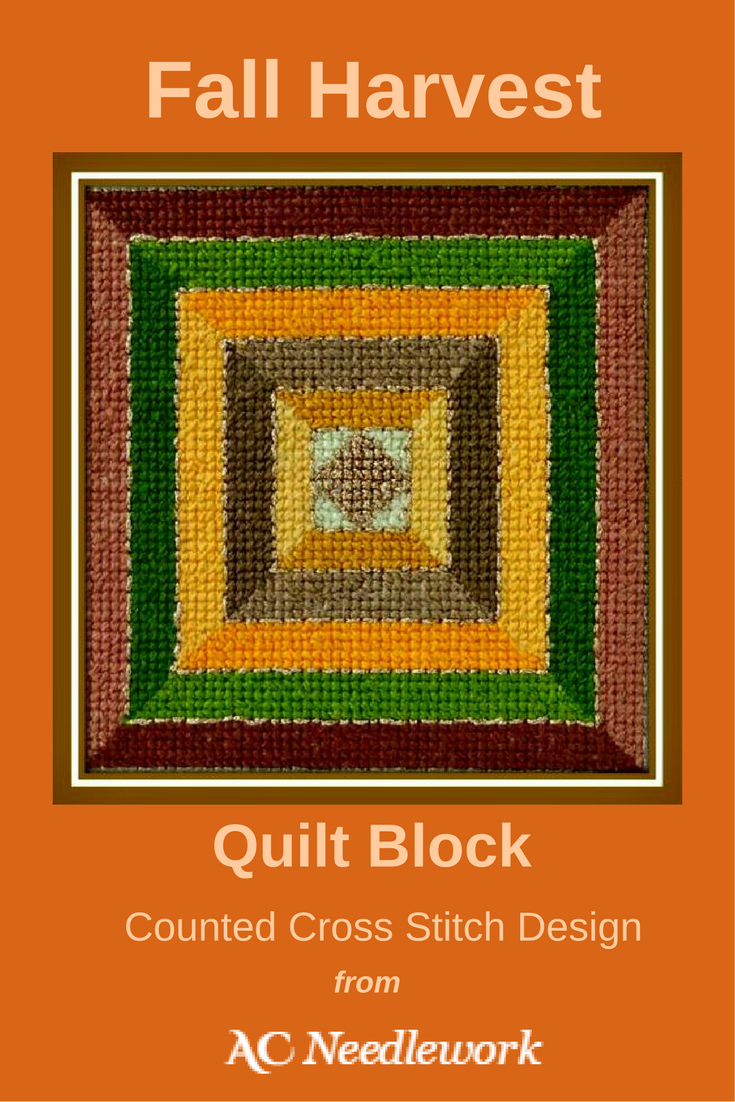 Fall - my favorite time of year! It means relief from the hot, muggy days of summer in the South. Those crisp, clear days with intense red and gold leaves against vivid blue skies are breathtaking. It also means harvest time! Keep reading to see how this season inspired my Fall Harvest Quilt Block counted cross stitch design.
A Childhood Memory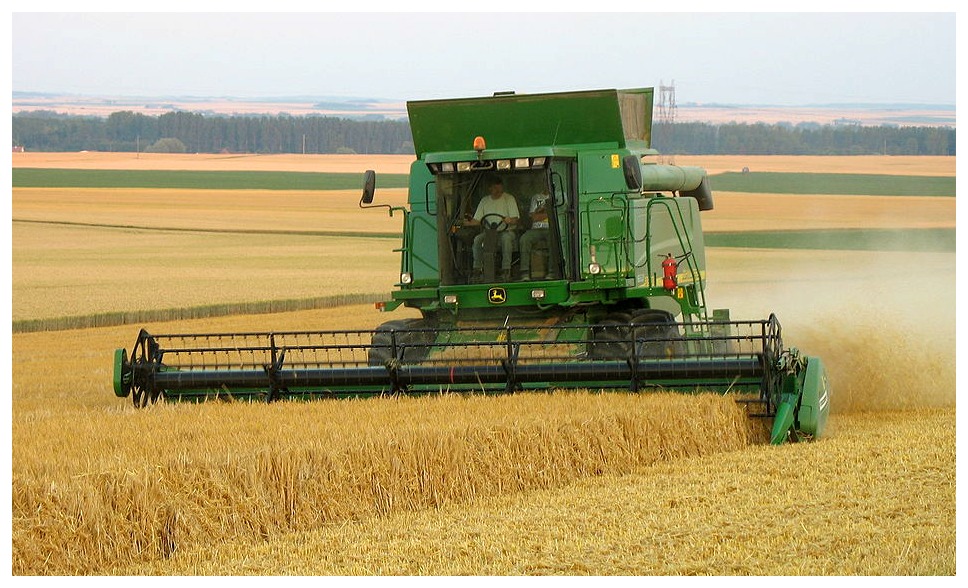 I grew up near a farm. It was on the main route we traveled to go to school and town. Every fall you could always count on seeing the farmer out on his combine cutting and baling hay. As I walked home from elementary school, I was fascinated with that big green machine as it went back and forth across the fields, leaving big bales of hay behind. It is a memory that still stays with me.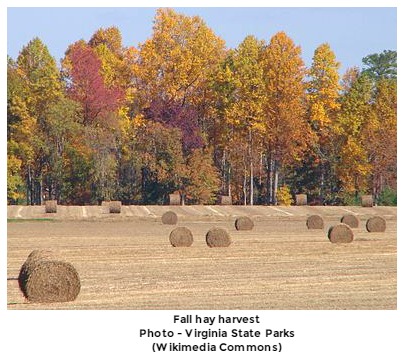 Fall Harvest Quilt Block Counted Cross Stitch Design
Last year, on one of those crisp fall days, I started thinking about that combine going round and round that field. The next thing I knew, I was designing this Fall Harvest Quilt Block pattern.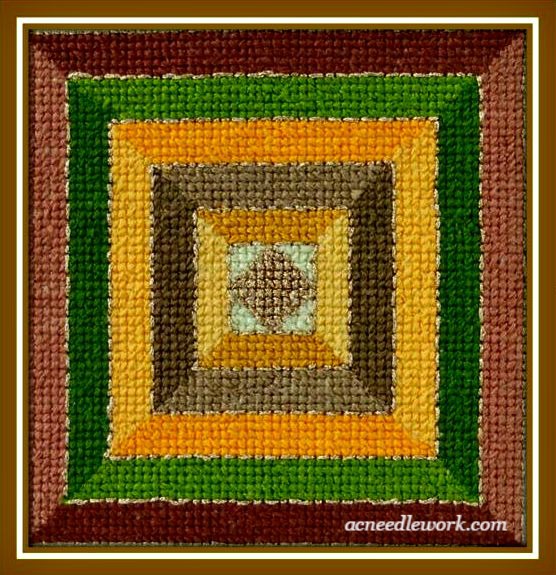 In this pattern, you stitch row by row, just like the combine going back and forth across the field. Floss colors are reminiscent of fall season and the gold triangle in the center symbolizes the fruits of the farmer's labor.
Design Details
Here are more specific details about the pattern.
Stitch Count - 60w x 60h
Finished Size - 3.75" x 3.75" ; 9.52cm x 9.52cm
Fabric - 16 count Aida
Colors - 13
DMC floss, Kreinik blending filament used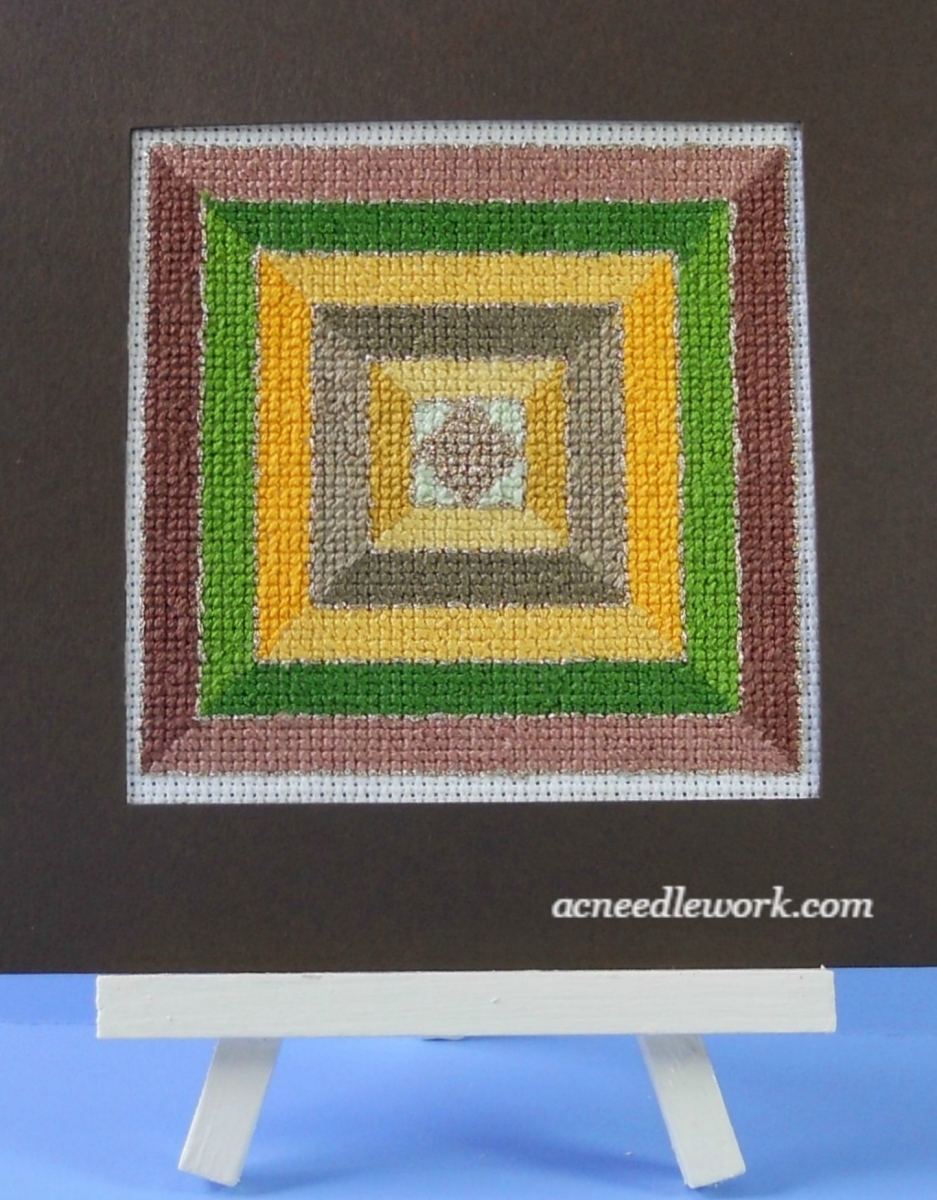 This design is perfect for a card, coaster, or use your imagination.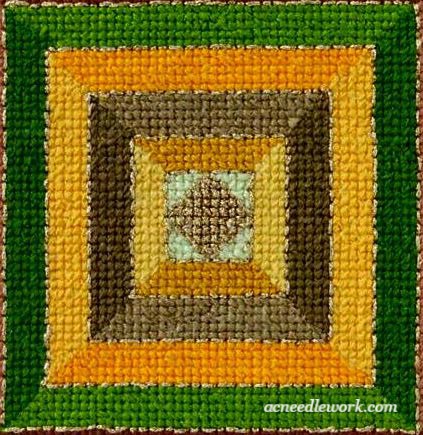 Want something smaller? Just stitch fewer rows as you see here.
So, now you know what is behind the Fall Harvest Quilt Block counted cross stitch design. Inspiration for creativity can come from many places, whether it is a time of year, a way of life, or a childhood memory. Why not celebrate fall and the fall harvest by stitching the Fall Harvest Quilt Block?!
Do you have a needlework piece that has a special meaning? Are any inspired by a particular time of the year? Share your ideas with us either in the comment section or on the AC Needlework Facebook page.
© 2016 Anne Cole. All Rights Reserved.
Related post:
Cross Stitching A Rail Fence Quilt Block
Other fall designs you might enjoy:
Subscribe to our email list. Get tips, announcements, updates and a free design.
Download free patterns
Follow AC Needlework on:
Facebook (Won't you like our page?)
Share This!