My shop is on vacation.
I invite you to take a few minutes to explore the blog.
Try a free pattern!
Five Tips for Stitching with DMC Coloris Floss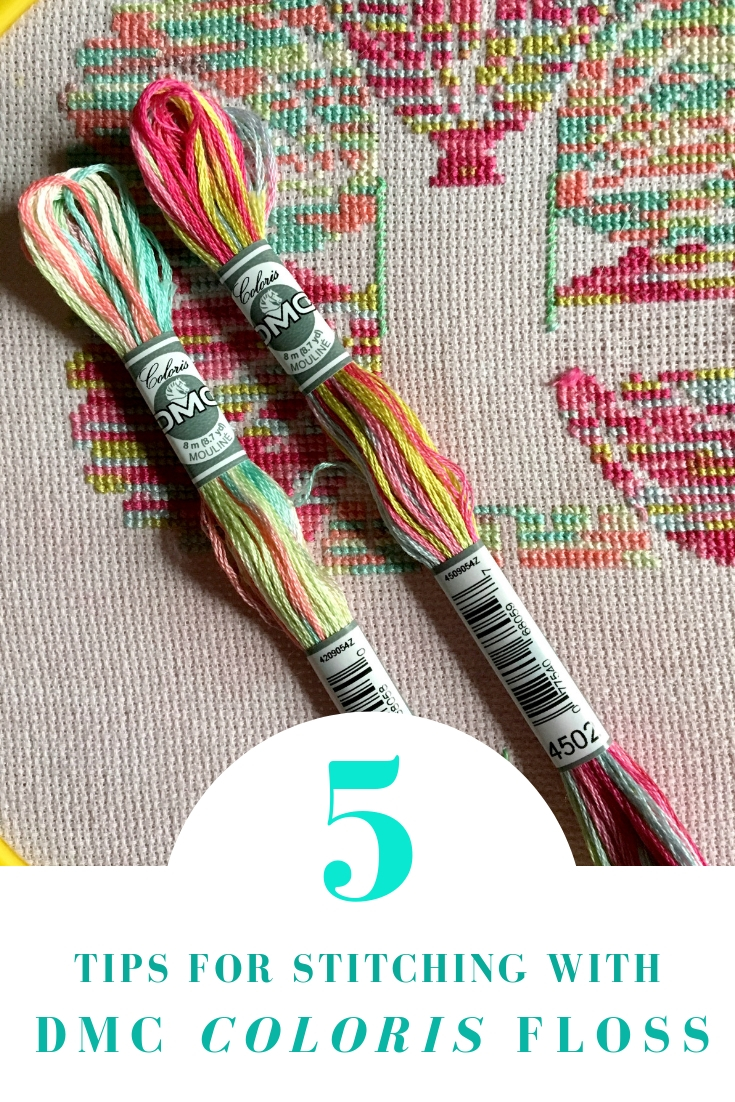 Have you tried DMC's Coloris floss? When I discovered it a year ago, I knew I had to use it in some cross-stitch projects. After experimenting with it, I love using it. It is fun and magical to watch the way the variegated colors play out in the designs as you stitch. If you have used it, you know what I am talking about. If not, perhaps, you will decide to add it to your needlework repertoire. Permit me to show you five tips I discovered for stitching with Coloris floss.
(Note: I am not receiving any monetary benefits nor am I affiliated with the DMC. I simply enjoy using these products.)
What is DMC Coloris Floss?
DMC Coloris floss is a 6-strand embroidery floss made up of 100% cotton. It is dyed with four different DMC complimentary colors per strand of floss. There are twenty-four different combinations in the collection. They number from 4500 – 4523. So far, I have used Coloris 4519, 4520,4501,4502.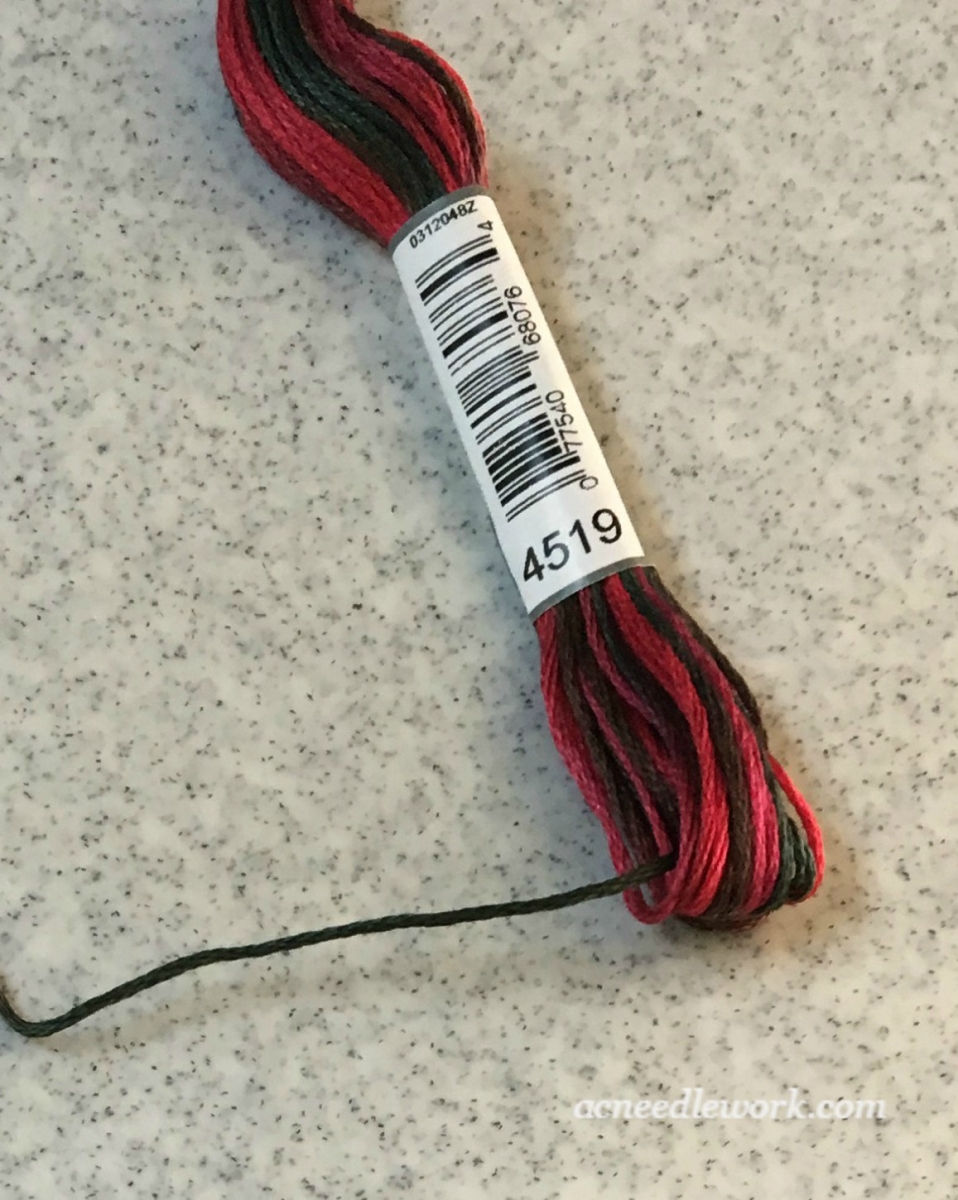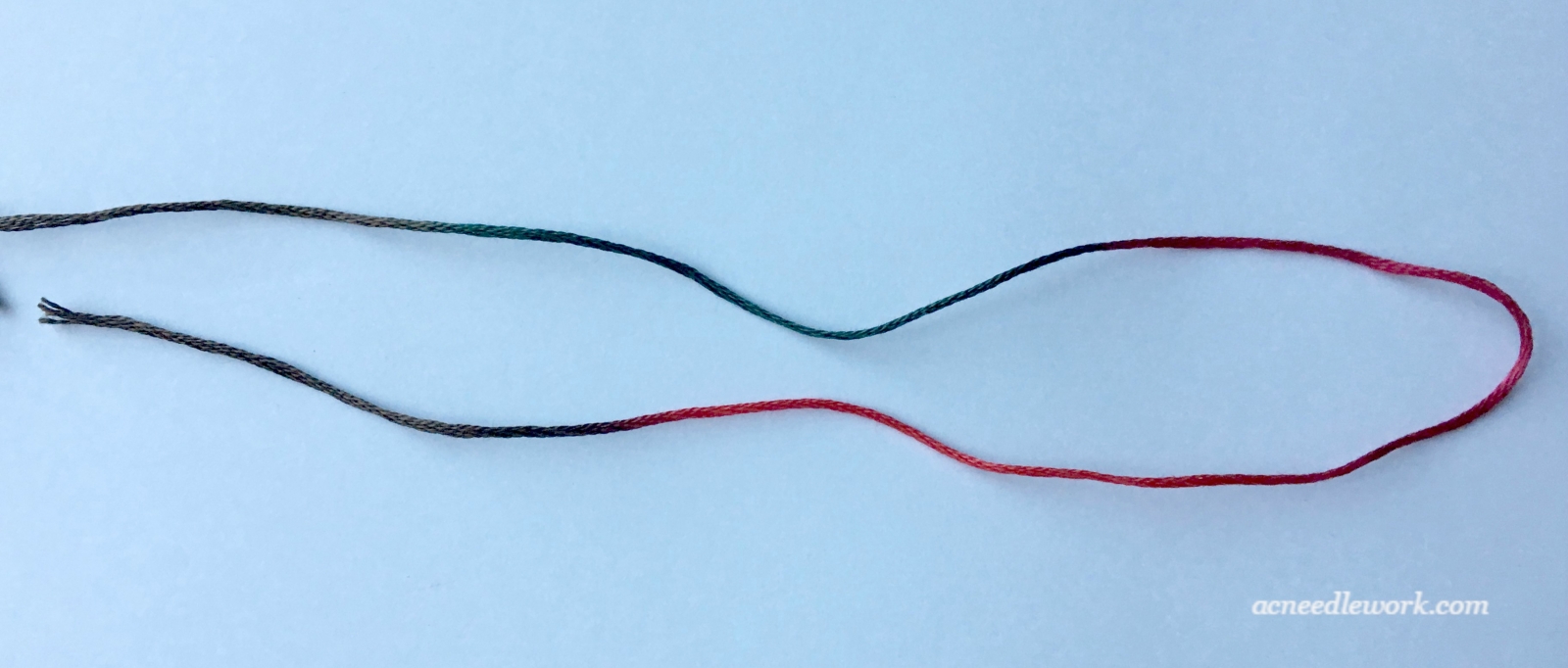 DMC Coloris 4519 – Jingle Bells
Dark greens, reds


DMC Coloris 4520 – Christmas Tree
Reds, green, white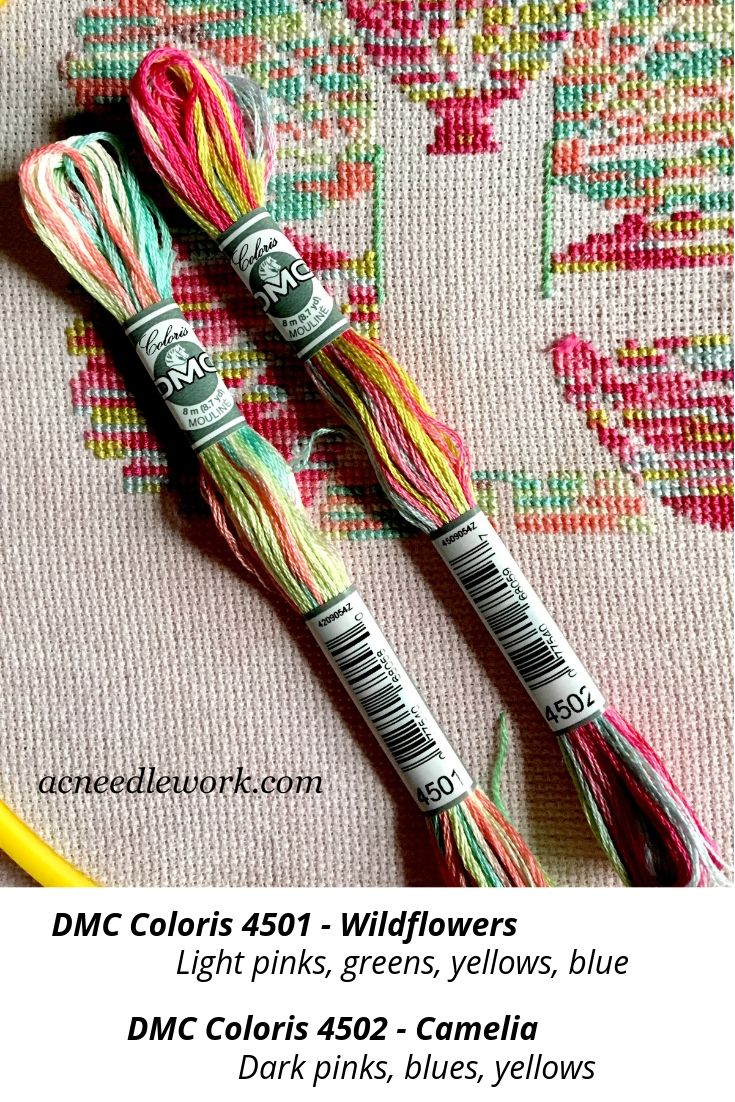 Create Different Looks with Different Cross-Stitching Techniques
Do you cross your stitches as you go or do you make row of single stitches and pass back over them to complete your row? With the color variations in the Coloris floss you can get a different look using different stitching methods. Here are some examples.
Tip 1 – Cross the Stitches as You Go
Cut the floss at the color you want to start with or just go random and see what result you get.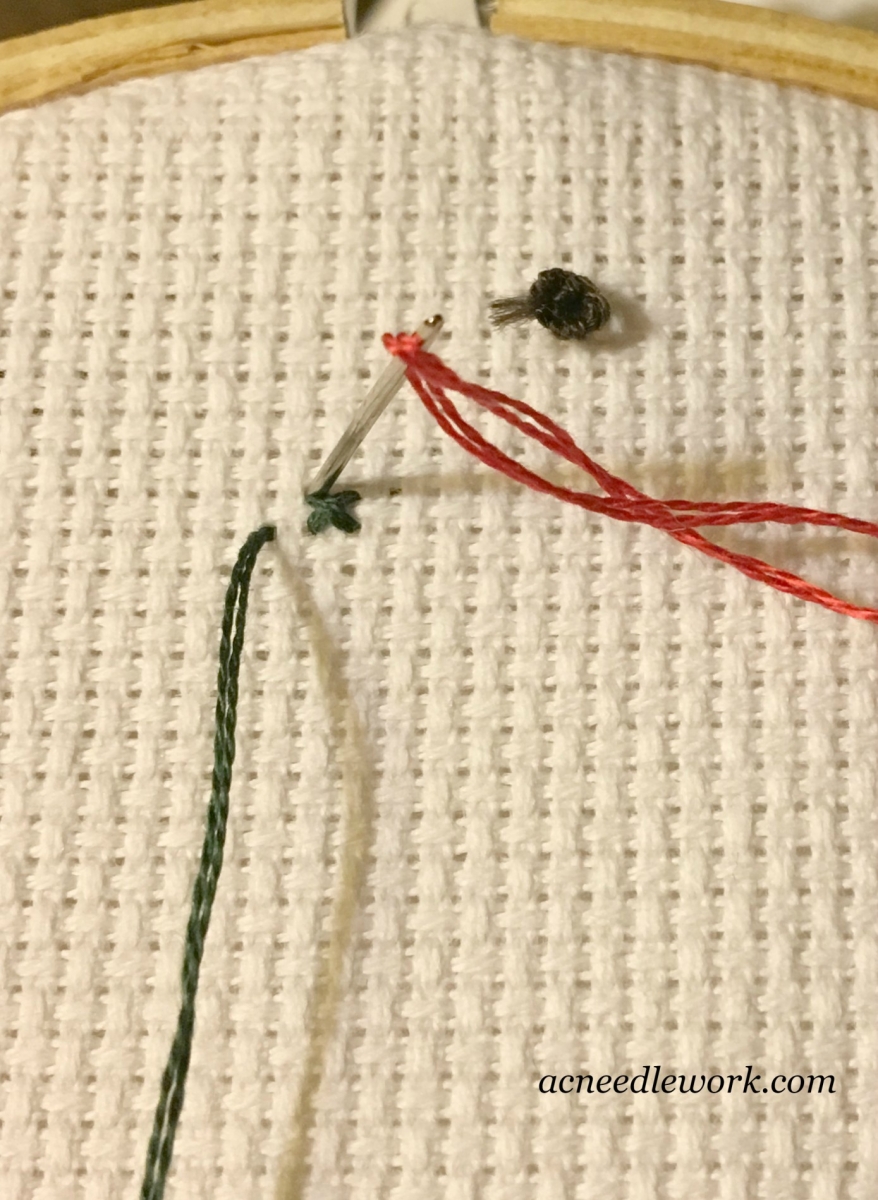 Cross over one stitch at a time
This is the result you get when you cross each half stitch as you go. Notice the blocks of color you get with this method. The tree in this project was stitched using this method.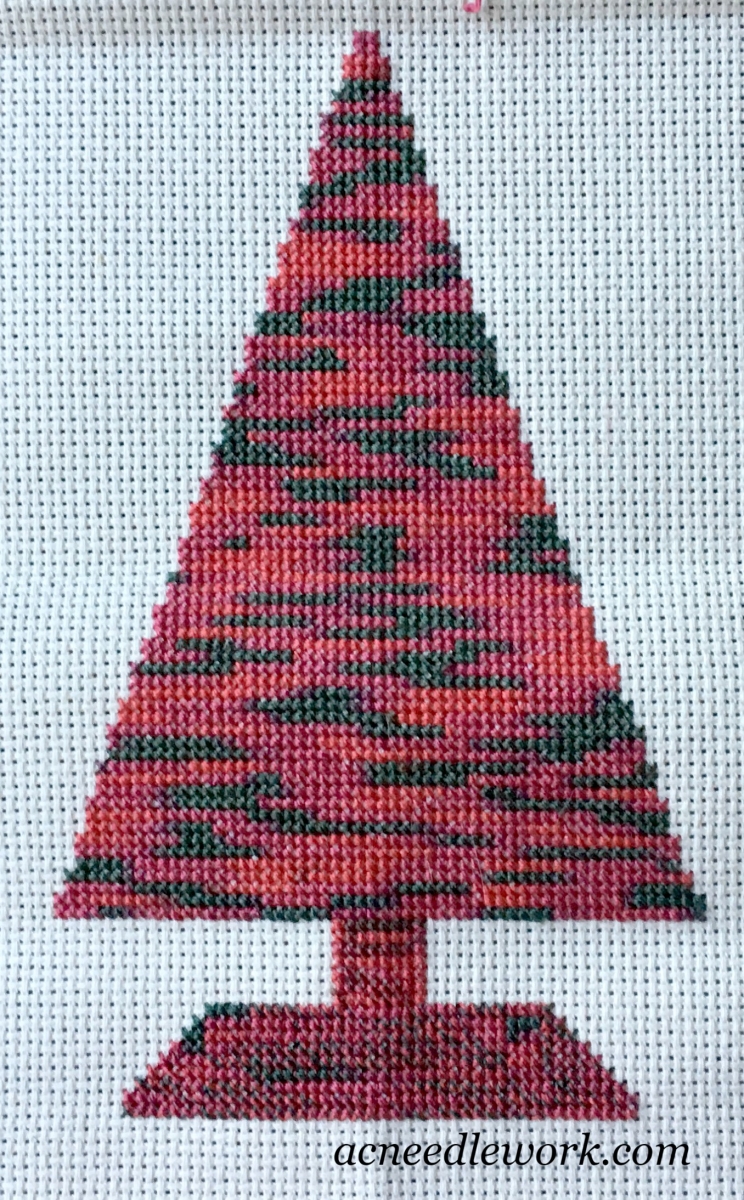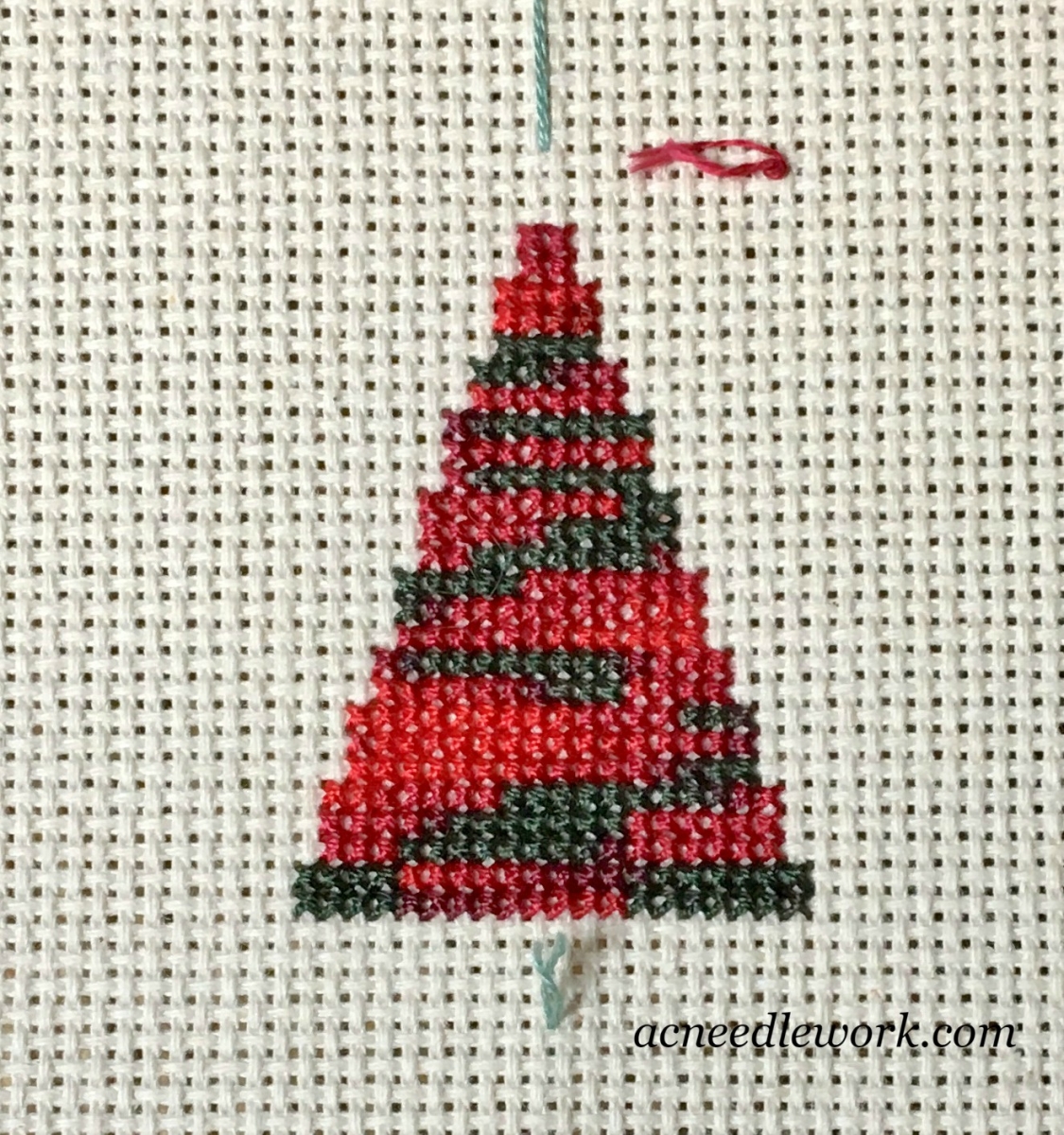 Tip 2 Cut the Floss at Different Locations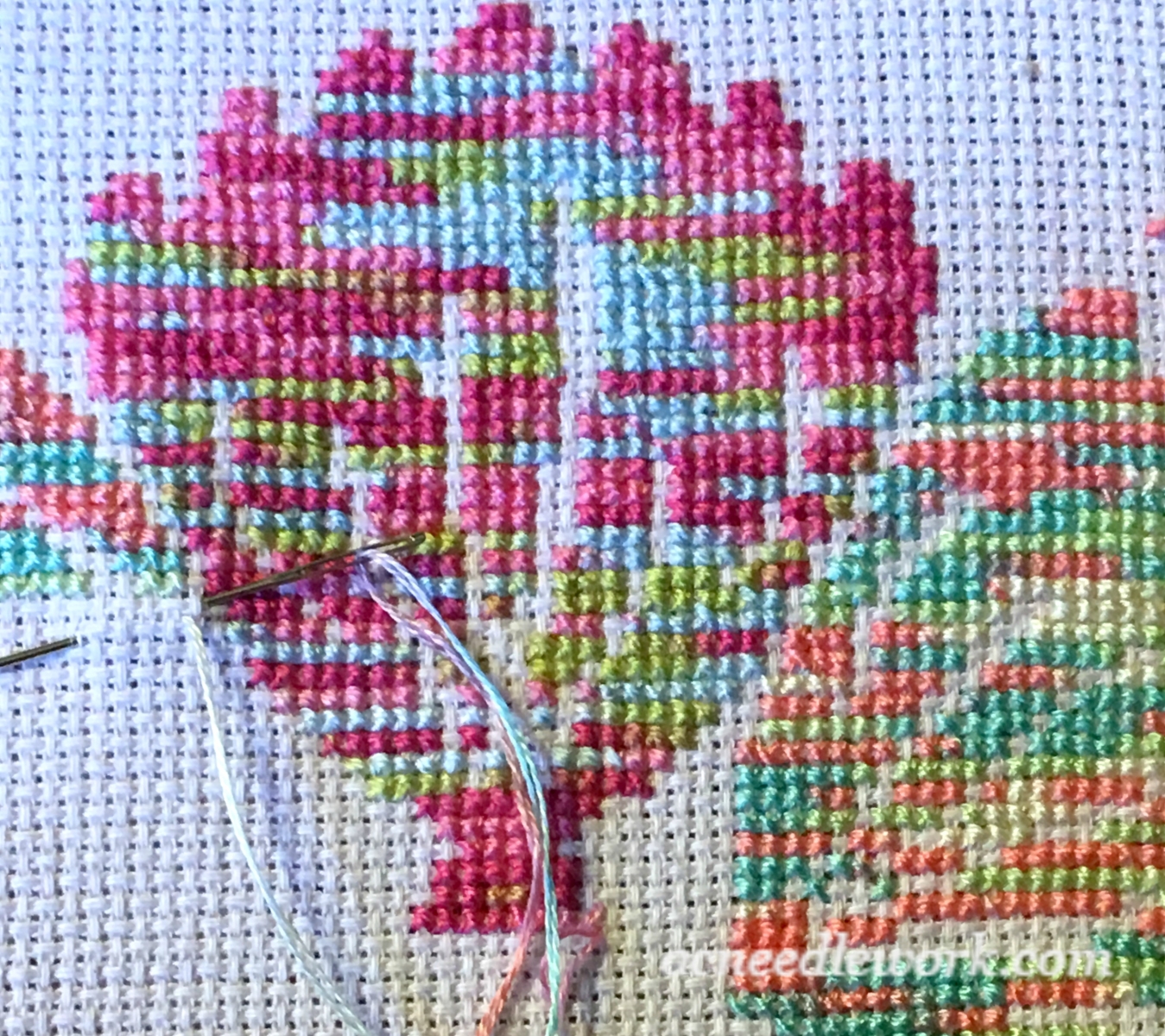 Change the look of the piece by cutting your floss at different places in the skein. In the photo above, I started some rows with the pink portion of the thread, others with the blue or green. This is also an example of the look you get when you cross the stitches as you go. It is clear how the colors cluster together. It gives the look of stitching with four different skeins of six strand DMC floss.
Tip 3 Single Stitch at A Time
Cut the floss at the color you want to begin with. Stitch a row of half stitches. Then stitch back in the other direction with a single stitch.
These photos give you a close-up of outcomes using the second method. Notice how the colors overlap each other as you stitch. Also, the colors are not as concentrated as in Tip 1.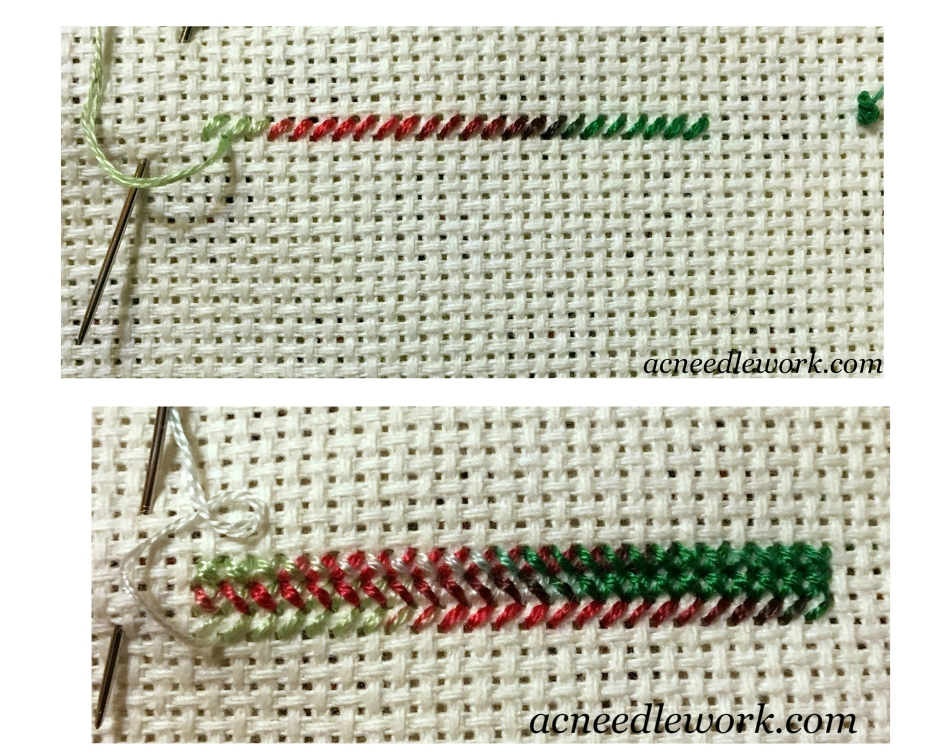 Finished Look
Tip 4 Get a candy cane look by allowing your floss to twist as you stitch.

Tip 5 DMC Pattern Booklets
If you need some inspiration, DMC published a series of pattern booklets for the Coloris Floss. The booklet includes the pattern for the design you see on the front and a chart of the floss numbers and names along with stitched samples of the colors as seen in the photo above. (I wrote in the English translation for each color in mine).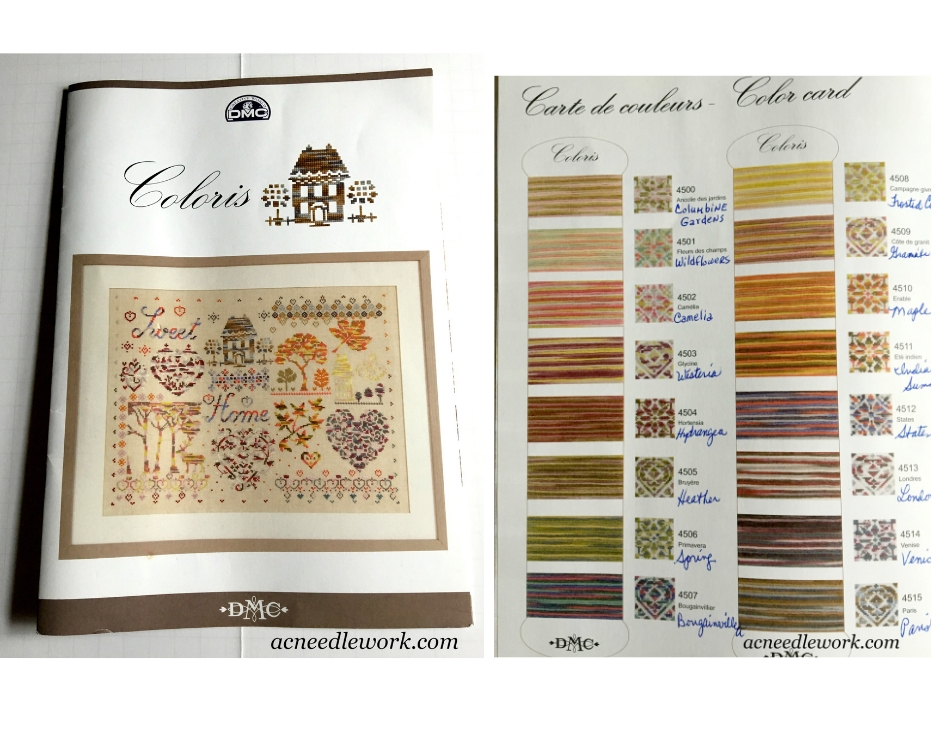 In Closing
DMC Coloris floss will bring a lot of versatility to your stitching projects. With so many color variations, you can stitch an entire project with one color from the collection. Imagine stitching an entire project with one needle and one floss selection. How easy is that? While the price of each skein of floss may put you off at first, consider that you are getting four different colors with one skein of thread instead of four skeins of six strand DMC cotton floss.
I hope the examples in this post have given you some new ideas and will inspire you to add something new to your stitching repertoire.
© 2023 Post updated for accuracy. first published 2019. Anne Cole. All Rights Reserved.
For exclusive offers and news from AC Needlework, join the AC Needlework Communitiy and get this free gift.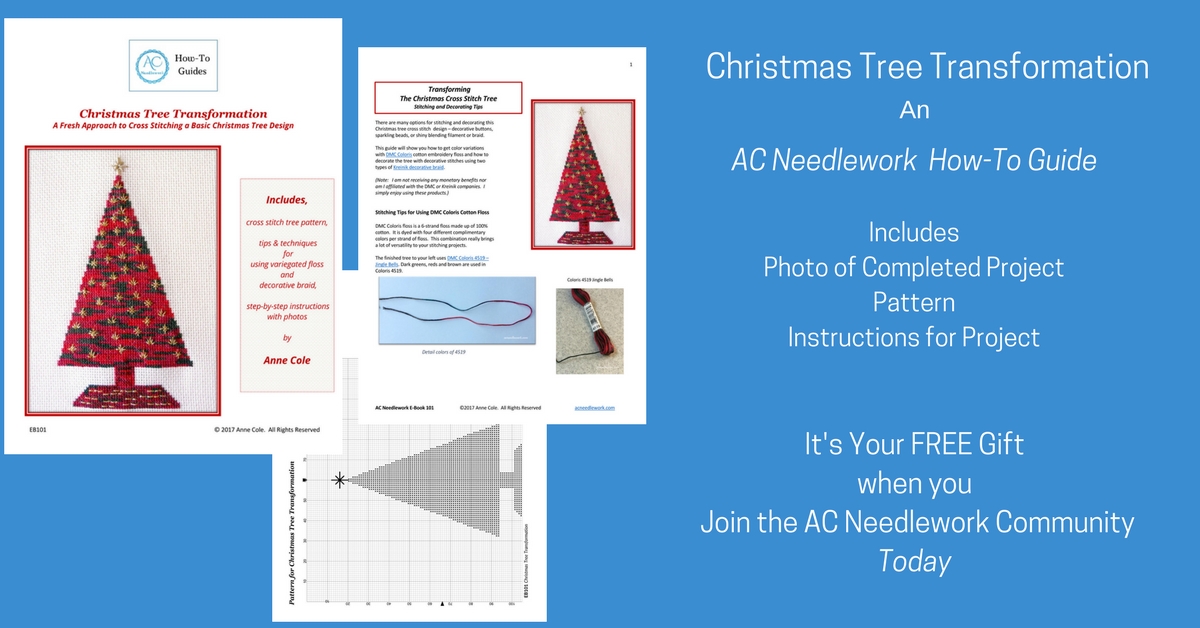 Related Reading Finish Your Cross Stitch With the Flatfold Technique
Social Media
Ways to Share