My shop is on vacation.
I invite you to take a few minutes to explore the blog.
Try a free pattern!
Need A Quick, Easy Cross Stitch Idea for Valentine's Day? Got You Covered!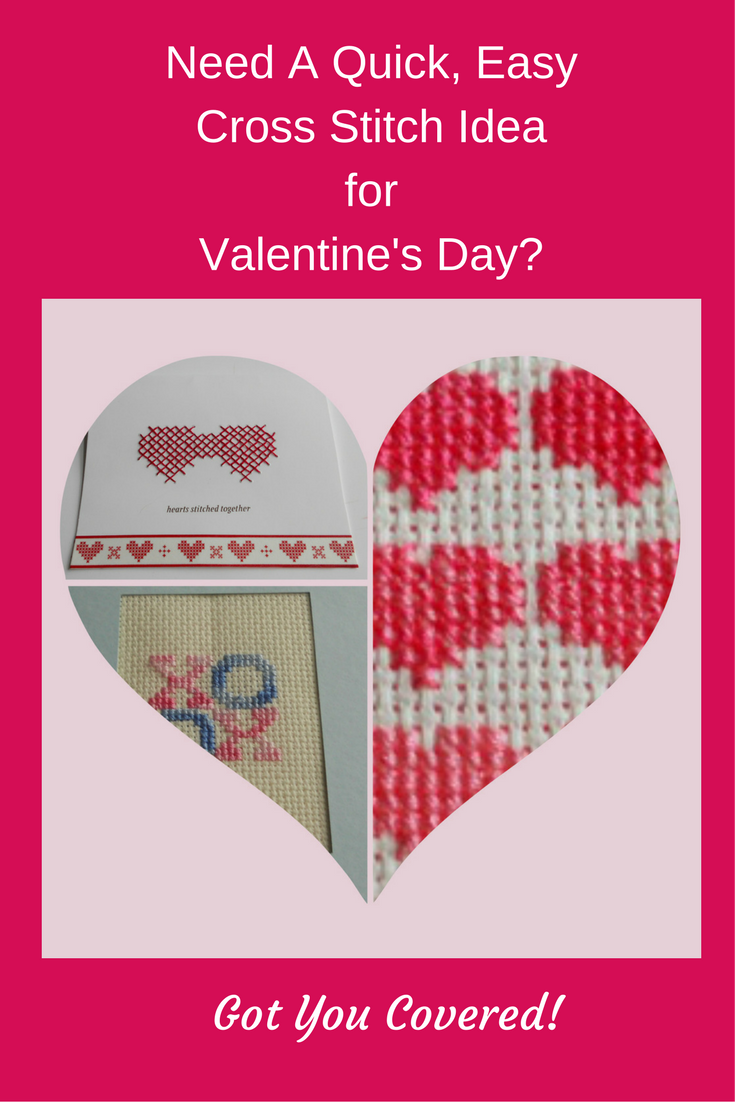 Looking for something to stitch for Valentine's Day? Here are some
ideas I found while browsing the web. If you need something quick
and easy, these look like they will fill the bill. Keep reading for more
details.
Looking for Hearts?
Stitch as many hearts as you desire with Sew French Embroidery's Pink Ombre Hearts design. This pattern offers five rows of hearts in light to dark pink floss. You will also find a step by step tutorial with excellent photos to show you how to stitch the pattern. This design is suitable for beginners as well as experienced stitchers.
I didn't have time to stitch the entire piece, so I stitched one section and mounted it in a greeting card. It took about two hours to stitch this section of the design.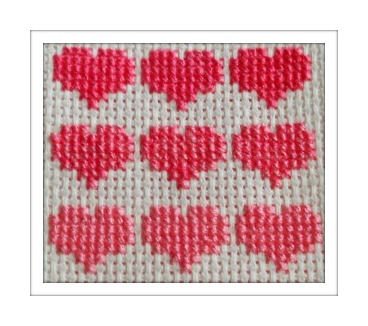 Pink Ombre Hearts by Sew French Embroidery
Joined Hearts
Here is a really easy card to stitch. You don't even have to use fabric or count stitches. Hearts Stitched Together from dandee-designs.com is a unique take on cross stitching. Download and print the card template provided in the blog. You will receive two cards on one sheet. Dots create the pattern for the hearts. After you print the cards on cardstock, make holes in the dots with a sharp pointed needle or push pin. Then with needle and thread connect the dots to create the joined heart. There is a very detailed tutorial with great photos to show you what to do.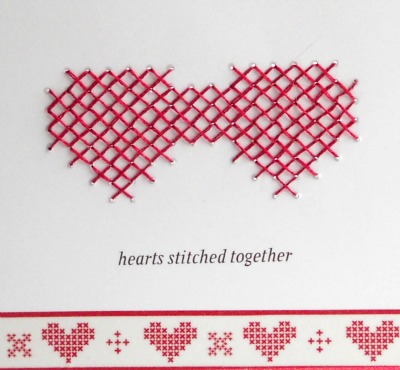 Hearts Stitched Together from dandee-designs.com
As you see here, I personalized my card with a strip of cross stitch washi tape. This project took me about an hour to complete.
XOXO
Finally, put a more modern twist on your Valentine wish by stitching XOXO from Storypiece. This design took about two hours to stitch. Instead of using two shades of pink, I used some variegated floss in shades of pink and blue. (DMC floss 4180, 4230). The stitched piece was mounted in a card from Craft Creations.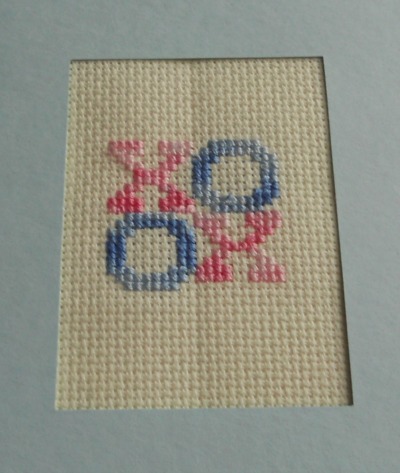 XOXO from Storypiece
Other Ideas You May Like
Do you like quirky owls? The Cross Stitch Shop on Etsy has
two adorable pink Valentine owls! Both are instant downloadble
patterns and are suitable for beginners. Links are here - Owl 1 ;
a cute series of free cat cross stitch patterns for each month. The
give your hearts a modern flair.
Why not take some extra time to share your Valentine sentiments in a unique way? I can guarantee the recipient of your hand stitched piece will cherish it. Hopefully these examples will inspire you to get busy!
(Note: Portions of this post first appeared in a post on February 6, 2016.)
Are you stitching a project for Valentine's Day? Tell us about it in our comments section, or better yet, post your photos to AC Needlework's Facebook page.
© 2017 Anne Cole. All Rights Reserved.
Related posts: Stitching Meets Filofax – How To Decorate February With Love



Follow AC Needlework on:
Facebook (Won't you like our page?)
Won't you share this?